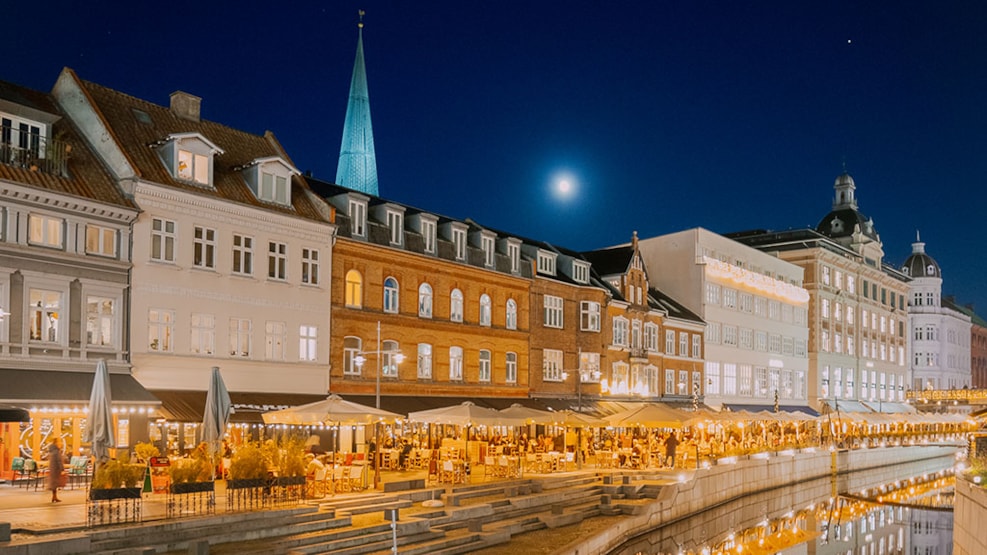 The Vadestedet
Take a bunch of cafés, add some night clubs, one river, a lot of people, and mix. Sprinkle the mixture with a great ambience, and voilá: you get the 'Vadestedet'. The Vadestedet is the place in Aarhus where the most cafés and clubs are gathered. All the way along the river they lie side by side, and on a lovely summer's day the place is alive with people.
Cafés with outdoor service
All the cafés have outdoor service, and whether you just need to quench your thirst with a cool draught beer or are getting a bit hungry, there are plenty of places to choose from. 
Central for nightlife
When the night starts to fall the area wakens even more, if that's possible. Many of the cafés are open until 2 am, and in addition to this, several of them are transformed during the evening into clubs and turn up the volume an extra notch.  
Enjoy the river while clubbing
If you need to rest your ears a bit, or if you just feel like a breath of fresh air, you can just sit down outside where you can have a beer or a drink while watching the river gently floating by, thus creating, in the best possible way, an almost Mediterranean atmosphere. Prices are perhaps a bit higher here compared to other parts of the city, but in return you get an atmosphere that is simply priceless!