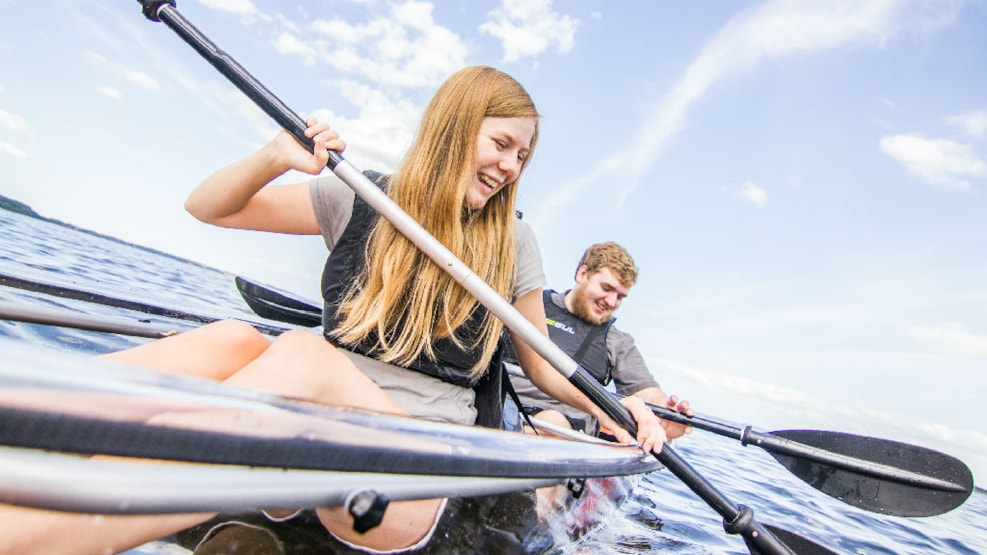 VisionKayak - glass kayaks
As one of the only places in Europe, VisionKayak located in Skive offers you the opportunity to head out on the open waters in a completely transparent kayak that act as overgrown water binoculars.
This gives you a unique experience both above and below the surface in which people of all ages can take part in. Experience such beautiful underwater sights as mussel banks, eelgrass, crabs, the special Limfjord sisters and all the other life below the surface, while enjoying a nice glide on the water. Visionkayak gives you the choice of three different types of tours; morning, sunset or full moon trips.
On the morning trips you get the full benefit of the water binoculars effect, while the romantic and cozy sunset and full moon trips offer nature's magnificent evening shows with fantastic colors, stars and the full moon's silver light. On the windless days everything that goes on in the sky above us is reflected by waters shiny surface, which gives the experience of rowing in the sky.
You do not need to have any prior experience with rowing or such activities on the water in general to go on the trips.
The kayaks are wide, stable, open and easy to steer. You get a brief introduction to the glass kayaks and basic rowing technique before we head out on the water, where we stay close to the shore all the way. The tours typically take 1.5-2 hours and happens at a pace where everyone can keep up. Each kayak has room for two people, so it's the perfect opportunity to enjoy an experience with someone you love. Of course we provide life jackets, so all you have to do is meet up at Marienlyst Strand in Skive in swimwear, clothes that you don't mind could get wet or rainwear; the paddles bring in a little water every time you take a tag in the water with your paddle. It is possible to buy drybags.
Information
For contact, opening hours or more information about VisionKayak and the opportunities their offer with their transparent kayaks: VisionKayak