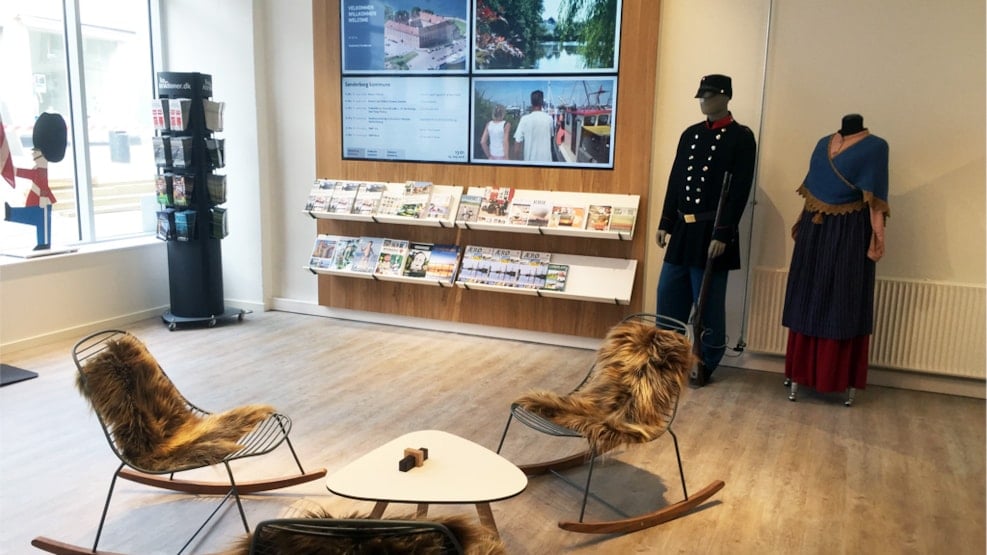 VisitSønderborg - Sønderborg Tourist Office
Welcome to Sønderborg Tourist Office - the official agency for tourism service in Sønderborg.
Visit our guest centre and our digital tourist office at the pedestrian street on Perlegade 50 in Sønderborg.
We provide free guest access to WI-FI.
The tourist office is manned and sells souvenirs and postcards, as well as ticket sales from "SønderborgBilletten" and Ticketmaster.
NB. From 16 March 2023, the Directorate of Fisheries has terminated all dealer agreements for the state fishing license for the sea and future purchases must be made at www.fisketegn.dk
Our telephone hours in 2023 are as follows:
01.01.-25.06. & 14.08.-22.12.: Monday to Friday from 10 am - 3 pm.
Additionally open from 10 am - 1 pm on Saturdays 08.04., 06.05., 20.05 & 27.05.
26.06.-13.08.: Monday to Friday from 10 am - 4 pm and Saturdays from 10 am - 1 pm.
NB. We are closed on Danish holidays, between Christmas and New Year as well as Constitution Day (5 June). 
Guided tours
During the summer season, we organize guided city tours in Nordborg, Augustenborg and Sønderborg as well as guided tours on a part of the Gendarme Path and in the Chapel and Garden of Gråsten Palace (When the royal family is not staying in the palace). 
If you visit us with a group, you can order special guided tours in advance.
Visit our Info-spots
The tourist-inspiration-spots also named Info-spot is found at several places at the island of Als and at the mainland. In a cooperation with local actors, a inspiration-spot has been set up with an interactive screen and a selection of brochures.
Ø-Pass Stamp
Our stamp is on the outside, on the pillar by the door, so you also have access outside our opening hours.