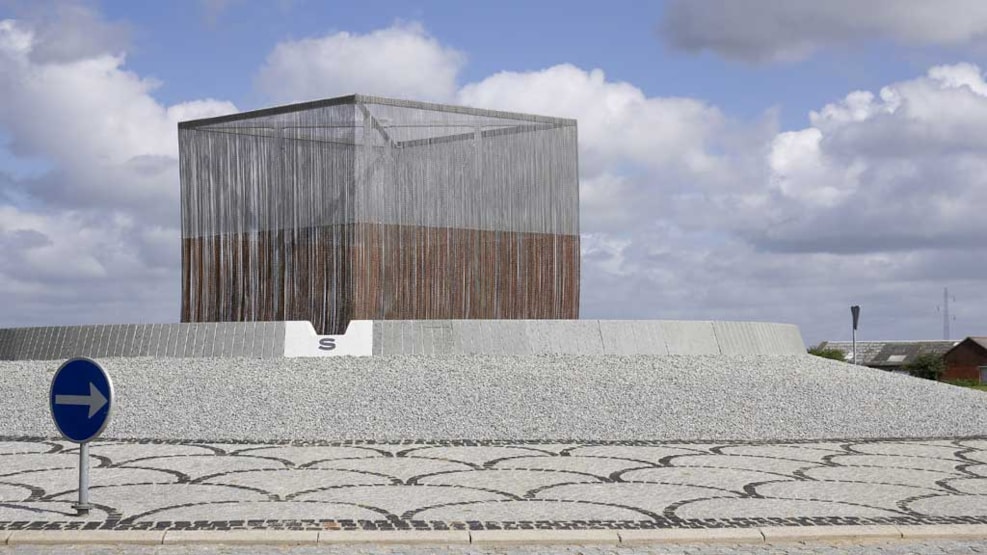 The West Wind
Family
The West Wind is located at the Herningvej - Ringvej Syd roundabout. It is the westernmost star and not related to any of the other stars.
Story
The West Wind is the only one of the 11 stars that is affected by the weather. When the wind blows, the chain curtain moves. The West Wind encourages us to think about what effect nature has on our minds. The wind from the west has always been a factor in this area. When the author Jeppe Åkjær in one of his books writes about Jenle who has placed his farm in the roaring gale, he refers to the roaring gale from the west. When we sing the song about the wind blowing across the waters of the Liim Fiord, we are referring to the west wind.
The thin, wind-movable chains of the sculpture can be seen as a picture of us. We are connected and subjected to the same fundamental conditions. What effect does it have on our personalities that we live in a green and windswept area? That we do not live in a big city, in a rainforest, a desert or a steppe? How does the wind and the open landscapes affect us? In what way does it make us special?
Form
The inspiration is the wind in the firs, in the long grass, in the grain field, across the waters, in the sails. It is also the horizontal line with the big bright sky and the darker land beneath. To Jacob Jensen Design the contrasts in silver and black are part of our form language, and they recur in many of our products. Although we live by the water and are sailing people, it is the first time that we have combined our form language with something that can be moved by the wind.