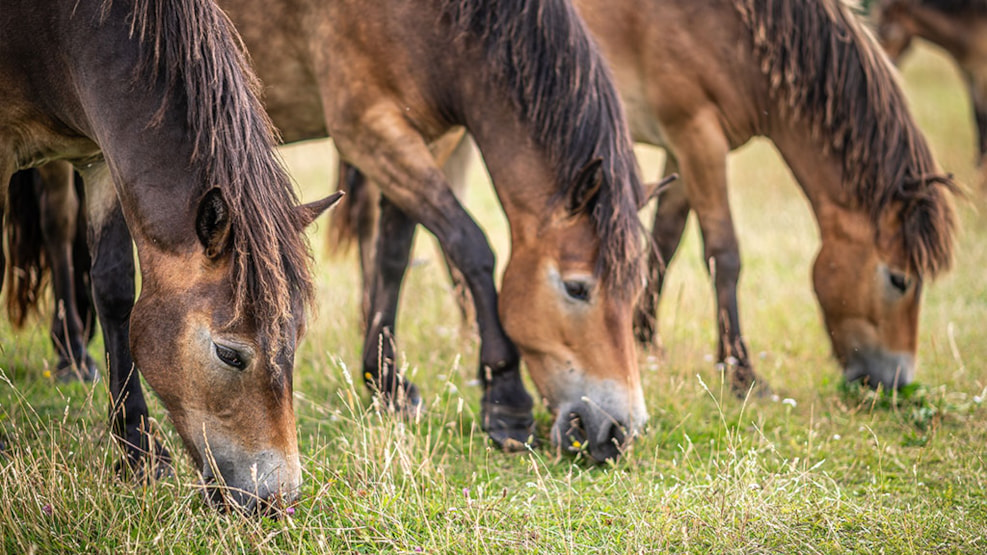 The Wild Horses - Flådet, Tranekær
You can encounter wild horses in the area known as "Flådat" south of the town of Tranekær and its impressive castle. The landscape around Tranekær is one of the most beautiful in Denmark. Some 9.000 years ago, during the summer months, prehistoric man had a settlement here.
South of Tranekær lies Flådet, a large area of meadow which was formerly used as farmland, some 90 hectares of which is now grazed by wild horses. The horses were brought here from the large population of animals at Gulstav in South Langeland, which produces around 15-20 new foals every year. To prevent inbreeding in the herd, Funen's Nature Agency has lent the herd the English stallion "Zeus", which came to Langeland in 2019 to help carry on the herd.

Flådat
Here woodland, hedgerows and marshland surround the large fields of the Tranekær Estate. The Archipelago Trail (Øhavsstien) passes through the Northern part of Flådat, close to the southern fringes of the town. You are free to walk along the many farm- and forest tracks here.

You should walk to the top of the hat hill "Skinderløkken"(in Ravneberg wood, on the other side of the main road), which at 41m, is the highest point in North Langeland. On the eastern side of this hill you can see the well known and very distinctive oak tree know as "The General's Oak".

Stone Age Peoples's Archipelago
9,000 years ago the large areas of water meadow south of Tranekær, known as Flådet, was a big, shallow lake. On islands and headlands in and around the lake the stone-age hunters who lived in the region built summer camps. Here, using weapons made from wood and bone they hunted roe deer, red deer, wild boar and possibly even moose, while in the lake they fished for pike. Archaeological finds also show that their catch also included small mammals and birds. Bones from dogs have also be found here which suggests they used hunting dogs.

At certain times of the year Flådet can be very wet and you should wear good, waterproof boots. It is also possible to take an alternative route through the town of Tranekær.

Parking
It is possible to park next to Tranekær Church and follow the Archipelago Trail from here.


Remember these 5 points when you enter the horse's enclosure:
Keep your distance from the horses – at least 25 meters
Do not touch or feed the horses
Refrain from walking between the animals. Always make sure you give them room to move freely
Leave the foals in peace
Do not bring dogs into the enclosure