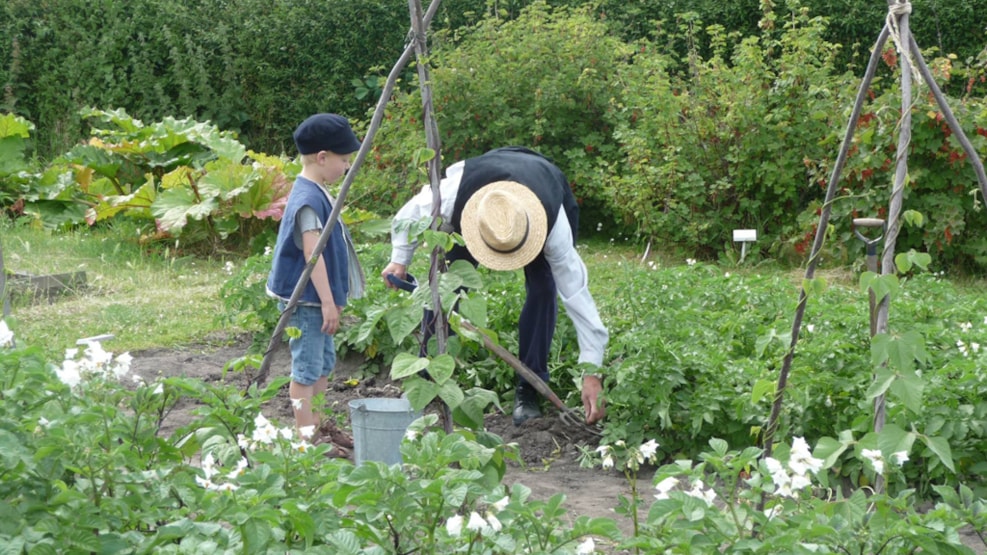 Discover the Old Times at The Amager Museum
The Amager Museum will be filled with life as the farm's people pull on their work clothes to arrange some of the many chores on a farm.
Activity calendar for the museum 
All children are invited to participate in the work that they did around 1900. Before the work can begin, the children will be dressed in typical clothes. There is dress and scarf for girls and vest and cap for boys. At the same time as the clothes, the children are assigned a book just as they had in the old days. In this book, the farm owner could write how the servants had behaved and handled the tasks.
When the children have completed a task on the farm, they receive a stamp with a badge and perhaps a small pronunciation.
The tasks vary from day to day. It can be to help in the kitchen, dig up vegetables and wash them clean, so that they can later be sold, wash clothes, sew, embroider, use missing boards, card wool, do field work, perform tact and tone, roll grain and more. In the farm's summer kitchen, it always smells wonderful, because here pancakes are baked, which are part of the reward. But remember, the plate needs to be washed up afterwards!
During the month there are other things on the program such as storytelling, demonstration of use of metal detectors, sausage workshop, tastings from the museum's smoke and salt bar. Keep an eye on the museum's website, where the program is regularly published.
See opening hours, address, etc. in the link to the Amager Museum.